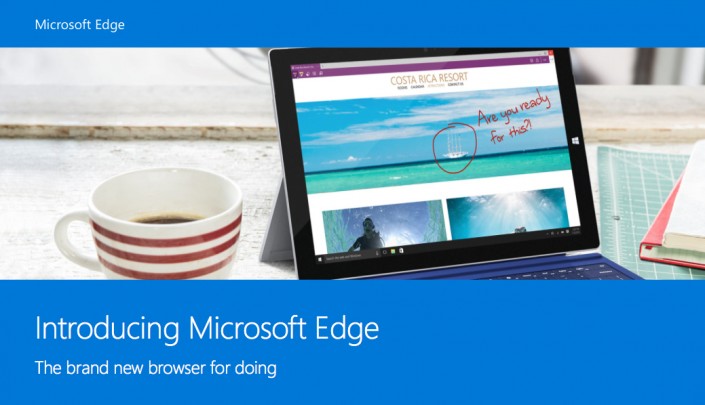 26 May

Goodbye IE, Hello Edge

With Windows 8 came the last version of Microsoft's famous web browser, Internet Explorer (IE 11). Since January this year Microsoft unveiled the next version of their web browser wouldn't be IE at all, but a brand new web browser. Yesterday, at their Build conference, Microsoft announced the name of their new browser: Microsoft Edge. They also released a video showcasing its slick, minimal design and some of its impressive looking new features
Microsoft waves goodbye to the much maligned web browser Internet Explorer and heralds in a new age of web browsing with Microsoft Edge.
IE has always been the unpopular big brother of web browsers. Early versions tended to work very differently from other web browsers and Microsoft had a terrible record for following industry web standards. This meant building websites on IE was always difficult, time consuming and, quite frankly, a pain. IE6 is a particular problem child, which now thankfully apart from China is hardly used. Only IE9 and above have proper support for HTML5 and modern web standards. But as the dominant web browser for the PC market IE has always been an essential browser to test websites against.
All this started to change a few years ago, when Microsoft realised their dominance in the PC and web browser market was waning. In a switch of the market share, Google Chrome is now the dominant web browser accounting for around 40% of usage in the UK with IE trailing behind at 22%. Most likely because of their struggles, Microsoft are now embracing web standards fully – something we warmly welcome. They promote building websites properly and have incorporated excellent support for HTML5 and modern web standards in their latest web browsers IE9 and IE10.
So what does this mean for you?
For website owners this means new and better technologies available on the web  to power your websites. Also, since all browsers follow the same standards development should be more efficient since the same code should run anywhere on any device. For users it means a better experience on the web, with faster and more engaging websites.
However, there is a big downside for those with really old websites.
For owners of legacy websites that are designed to work in old versions of IE (this means IE10 and below) you can't expect your website to work properly in Microsoft Edge. Because the underlying engine has been rewritten there is no longer support for the old way of doing things. Microsoft have taken the brave decision to break backward compatibility to build a better web browser for users. As a fallback, Microsoft have decided to make IE11 available for those users who need to continue using it. But this really only covers enterprise users who have things like legacy online portals built that only work in a browser such as IE7.
Because Edge will be the default browser on Windows 10 (though users will likely have a choice of Chrome and Firefox too) the vast majority of users will stop using IE11 as soon as they upgrade to use Windows 10. This will in effect kill IE in a relatively short timeframe as users start to embrace Windows 10.
This means it's more important than ever to make sure your website is built using modern web standards, such as HTML5, which all browser manufacturers now are fully behind.
As ever, we will continue to design and test client websites on all modern web browsers, including Microsoft Edge. If you want help making sure your site works properly with Edge in Windows 10 and other modern web browser get lets talk!